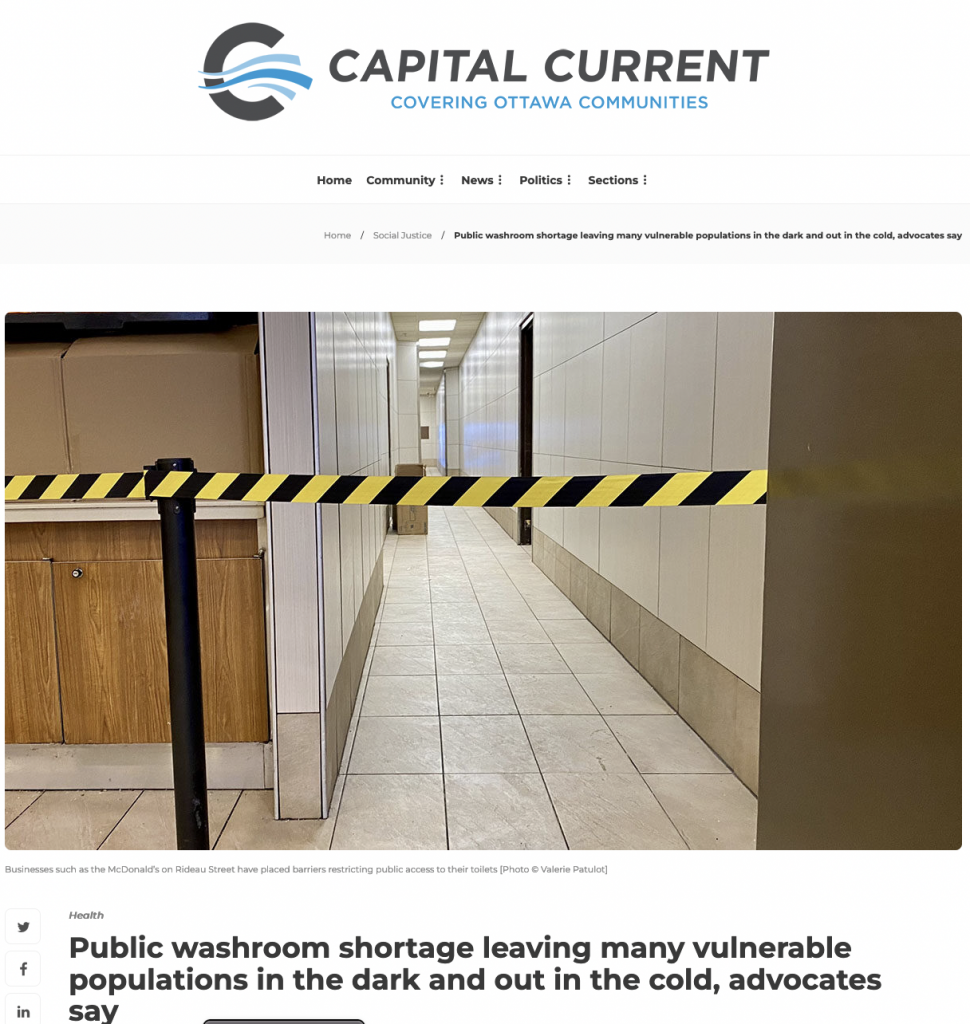 Health Public washroom shortage leaving many vulnerable populations in the dark and out in the cold, advocates say
By Valerie Patulot,4 min read
The latest wave of pandemic protocols triggered shortages across the city — including reduced availability of public washrooms.
Under COVID-19 restrictions in place throughout January, most Ottawa businesses were forced to limit capacities, work with reduced staffing and shorten hours of operation. That left many citizens who have chronic health conditions scrambling for solutions to relieve the discomfort when nature comes calling.
"People with Crohn's or colitis really plan their schedules around it — often their careers and schooling as well," said Sherry Pang, community engagement co-ordinator at Toronto-based Crohn's and Colitis Canada.
Pang said individuals experiencing bowel flare-ups can find themselves needing to use a washroom up to 20 times a day.
Those suffering with Crohn's or colitis and other health complications find themselves taking extended time off work or school because "they can't function without washroom access," Pang added.
Crohn's and Colitis Canada has been encouraging local businesses to open up their washrooms and enter information about toilet availability on the GoHere: Washroom Locator app so that those suffering incontinence can avoid uncomfortable and sometimes dangerous situations.
Removing physical barriers that restrict access is a vital part of a much-needed public conversation about washroom accessibility, Pang says. But, she said, there also needs to be an improvement in the public's "understanding of the urgency and the anxiety and humiliation" that accompanies this issue for so many Canadians.
Other local advocates are pushing for greater awareness and more free places to pee in light of COVID-19 restrictions, particularly during winter.
Bessa Whitmore, a member of the local advocacy group GottaGo, said far too many Ottawa residents suffer daily because of restricted access to public washrooms across the city.
"What we have done is basically privatize public washrooms," said Whitmore. "People would go into Timmy's or a coffee shop and feel obligated to buy something and public buildings were open like city hall and National Arts Centre. Then with COVID, everything shut down and there was no place to go."
The GottaGo team has been lobbying for improved public washroom facilities in Ottawa since 2013.
Whitmore said she believes city planners tend to be "biased towards developers" and often brush the opinions of the public off to the side, making the options for where residents can go to relieve themselves when they are out and about "pretty sparse."
Despite GottaGo's vigorous advocacy, the organization's officials were shocked when there was no mention of an increased supply of public washrooms in the city's recently released 25-year plan.
Whitmore says the conversation about where to go when you gotta go can be taboo. She adds that changing what she describes as shameful rhetoric surrounding the matter could help promote washroom accessibility.
"Public toilets aren't only used by people who are homeless," she said. "They're used by all of us, one time or another."
"Public toilets aren't only used by people who are homeless. They're used by all of us, one time or another."

Bessa Whitmore, GottaGo
GottaGo has emphasized how seniors, those living with disabilities and parents of young children are among the citizens who require frequent access to public toilets across the city.
Lezlie Lowe, author of No Place To Go: How Public Toilets Fail Our Private Needs, says that, while considered costly, adding more public washroom facilities and ensuring they are well maintained year-round will benefit the community at large.
"The costs of not having public bathrooms are massive," she said. "People do not stay long in downtown cores if they do not have access to bathrooms."
Lowe cited shopping malls as examples of how clean and accessible washroom facilities can reap financial rewards for businesses nearby.
"It's because they want people to stay there as long as possible. This is not out of the goodness of the mall owners' hearts that they're providing these fantastic, outfitted bathrooms," she said. "They're doing that because they want people to stay longer in the mall and spend more money."
As provincial COVID-19 restrictions loosen and Ottawa residents look to leave their homes more often, Lowe said she hopes the waves of pandemic closures have accentuated awareness of the need for more widely available public toilets.
"There need to be adequate, safe, heated, ventilated buildings," said Lowe, "that are available in different pockets of the city, based on how many are going to be there using it."